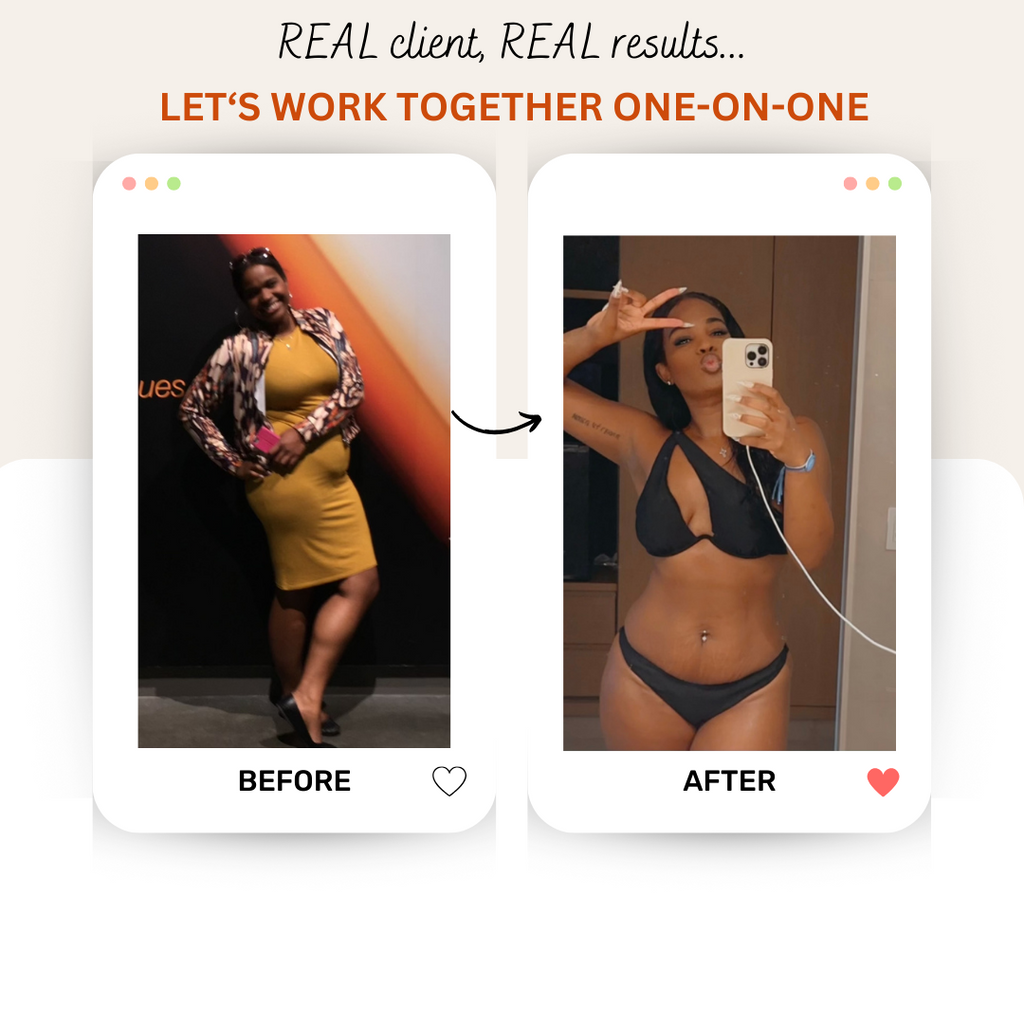 You don't have to go at transformation alone! The private one-on-one monthly coaching program will allow you to get the individual attention you need to help you reach your unique goals!
My name is Indian Tyler and I lost 60 pounds, I've kept it off for years and I'm here to help you reach your transformation goals!
I hold a Master of Public Health degree and I have studied health and beauty for over 20 years before becoming a transformation coach.
The one-on-one monthly program includes 30 days* of the following:

Two private 30-min live coaching sessions per week** (via FaceTime or Zoom, can be combined into one 60-min session per week)
Periodic macro review
Meal mapping (we will create a weekly meal map which outlines what you will eat for the week)
Special occasion and dining out meal mapping
Determination of your holy grail foods (this includes on-the-go foods at restaurants, fast food establishments and grocery items)
Emails with Resources and Recipes 
Phone & Text Support during office hours, 11AM-2PM ET (subject to availability)
Accountability check-ins
Complimentary access to any kickstarts and jumpstarts held during the 30 days of registration
*30 days of service begin at the time of registration or when services first rendered, whichever is sooner
**Coaching session(s) must be completed on a weekly basis and cannot be transferred or combined to following week(s). Once you register, you will receive a link to my calendar to book your live coaching sessions for the month.
DO I HAVE TO EXERCISE?
While light to moderate exercise is encouraged, it is not mandatory during the program.
HOW DO I REGISTER?
All you have to do now is complete registration. Simply click the button "Add to Cart" at the top of this page and complete the checkout process.
If you have any questions, call or text 818-394-0670.
DISCLAIMER: Results May Vary. The weight loss testimonials are in no way a guarantee of results. Results, weight loss amounts, and length of time for weight loss may vary for each individual. This website does not provide medical advice. The information, including but not limited to, text, graphics, images and other material, contained on this website is for educational purposes only.
No individual result should be seen as typical. Whether genetic or environmental, it should be noted that food intake, rates of metabolism and levels of exercise and physical exertion vary from person to person. This means weight loss results will also vary from person to person.

The content is not intended in any way as a substitute for professional medical advice, diagnosis or treatment. I am not a physician, dietician or nutritionist. Always seek the advice of your physician or other qualified health care provider with any questions you may have regarding a medical condition or treatment and before undertaking a new health care regimen, and never disregard professional medical advice or delay in seeking it because of something you have read on this website.